For the first time ever, the United Auto Workers (UAW) union launched strikes simultaneously at all three major Detroit car companies – General Motors, Ford Motor, and Stellantis (the parent company of Jeep). Nearly 12,700 workers began striking just after midnight on Friday in targeted work stoppages at plants located in Michigan, Ohio, and Missouri. The strike came after failed negotiations for new labor agreements affecting around 146,000 U.S. factory workers.
Worker Support and Concern: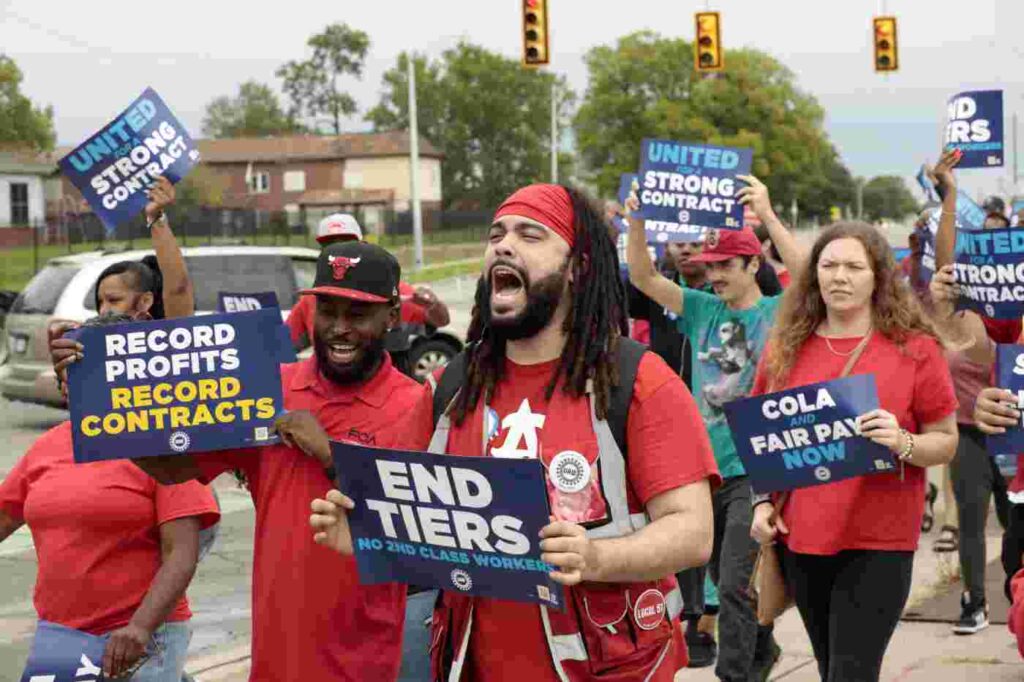 People showed their support for the strike by honking their horns outside the Jeep plant in Toledo. Some workers expressed nervousness but believed in the cause. Erika Mitchell, a factory worker and mother of two, said, "This is scary for a lot of people, but at the end of the day, we have to fight for our future."
Union's Stand:
UAW officials initiated the strike, emphasizing that the money was available, the cause was just, and they were ready to stand up for their rights. They stated that this was a defining moment for the union.
Company Responses:
Ford spokeswoman called the union's demands unsustainable but expressed a commitment to reaching an agreement.
GM mentioned it had made an unprecedented offer and was disappointed by the UAW's actions.
Stellantis expressed disappointment, saying the union leaders refused to engage in a responsible manner.
Strike Strategy and Concerns:
The UAW planned targeted work stoppages instead of a full strike of all 146,000 workers to preserve the union's funds. However, this could disrupt production and cause some employees to work without contracts, raising concerns.
Negotiation Issues:
As of Wednesday, companies had offered wage increases of 17.5% to 20% over more than four years, falling short of the union's mid-30% demand. Other sticking points included cost-of-living adjustments and retiree medical benefits.
Read More-AB InBev's Revenues Soared 2.2% in Q2 2023
Impact Beyond Auto Industry:
The strike has consequences beyond the auto industry, affecting President Biden's calls with carmaker executives and investors evaluating potential financial impacts.
Union's Perspective:
UAW President Ray Fain framed the negotiations as a referendum on fair compensation for blue-collar workers, especially in light of company profit gains and wage increases at other unions.
Changing Auto Landscape:
Both the UAW and automakers aim to adapt in a rapidly changing car industry. UAW seeks to secure a place in the electric vehicle era, and automakers are working on becoming more tech-focused while investing heavily in EV production. They face the challenge of reducing costs while moving toward electric vehicles and competing with non-unionized rivals.
Read More-Important Facts About ARM Stock as It Begins Trading
Labor Cost Comparison:
Under current contracts, hourly labor costs for Detroit automakers average around $65, including benefits, compared to Tesla's $45 and $55 for Asian automakers. The union's initial demands could roughly double automakers' hourly labor costs, but the UAW argues that labor costs are a small part of overall vehicle expenses.