Two South Asian Americans have won Georgia's Democratic primaries for the state Senate and House races. Bangladeshi-American Nabilah Islam narrowly defeated state Chief Beth Moore in the Georgia Democratic primaries for the state Senate 7th District race. In the State Assembly race, Pakistani-American government affairs adviser and political strategist Farooq Mughal won the Democratic primary from the 105th District.
Islam received 50.34 percent of the vote, while Moore received 49.66 percent. By a 0.68 percent margin of victory, Islam missed Moore's opportunity to demand a recount, as reported by the Gwinnett Daily Post. "State law was changed in 2019 so that if a candidate is within half a percent of his opponent, there will be a recount," the Gwinnett Daily Post reported.
The seat is a new addition to Gwinnett's Senate delegation due to redistribution last year. There are no attendants in the race. Islam will face Republican Josh McKay, who defeated Bill Sandman in the GOP primaries in November.
Named the Atlanta area's equivalent to Republican Alexandria Ocasio-Cortez (DN.Y.), Islam is a lifelong warrior, organizer, and community advocate dedicated to advancing Democratic causes and values. He is currently a member of the Gwinnett Outreach Advisory Board. In this position, she worked to provide help and support to AAPI small business owners in Gwinnett following targeted Asian spa shoots, according to her website.
In 2020, Islam was in a crowded field of Democrats vying for the 7th Congressional District seat won by Republican Carolyn Bourdeaux (D-Ga.). After the election, Gwinnett worked as a senior adviser to the Democratic Party, where she helped the Vietnamese, Korean and Latino communities get out and vote. He was also appointed president of I-PAC, an organization dedicated to winning the votes of Muslim Americans, and spearheaded a historic effort to reach more than 60,000 registered Muslim voters statewide in critical runoffs.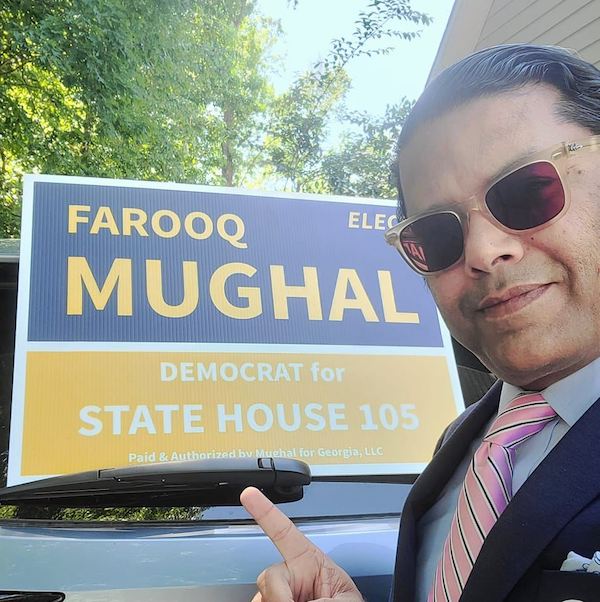 Mughal, who ran undisputed, will now again face off against Republican Arefeen Chowdhury, who is running unopposed. Mughal grew up in Gwinnett County to immigrant parents who moved to the United States from Pakistan in 1995, who arrived in Lawrenceville, Georgia, in 1995. Moghul learned "the values ​​of hard work and integrity" from her parents and "instilled in her the values ​​of service and the importance of giving back to our society and country." She attended Mercer University in Macon and graduated in 2000 with a BA in Sociology.
In 2008, Mughal founded his own government affairs firm, MS Global Partners – Government and Business Consultants. Its core services provide strategic advice to government agencies and minority business owners – Asian American, Black, Latino, Senior and Women-owned businesses – for their economic development, business expansion, technology and public engagement needs.
He got his first job after graduating from Mercer University at King & Spalding LLP, Atlanta's largest and most prestigious law firm. There, he had the opportunity to work under the supervision of the Hon. Griffin Bell previously served as President Jimmy Carter's 72nd U.S. Attorney General. He then served for more than two years as a legal assistant as the Deputy Attorney General of Gwinnett County, where he conducted legislative research and coordinated seminars for the Georgia Attorney General's Board and the Governor's Office of Highway Safety.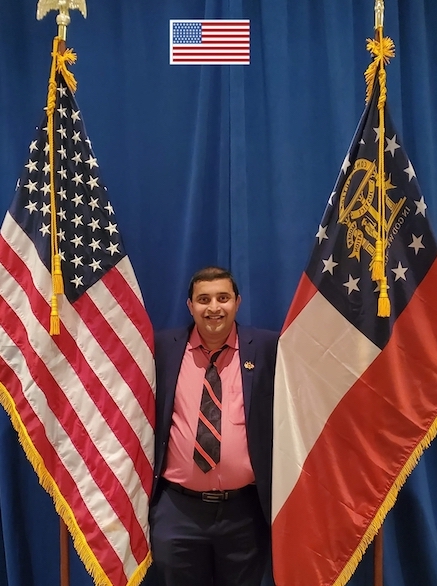 Meanwhile, Indian-American Republican Kartik Bhatt lost his nomination for Labor Commissioner. State Senator Bruce Thompson won the three-way primary of the Republican nomination, the seat held by incumbent commissioner Mark Butler, a Republican who was not considering reelection.
In 2019, Bhatt was appointed to the Georgia Board of Auditors for Certification of Water and Wastewater Treatment Plant Operators and Laboratory Analysts. In a social media post, he thanked "over 66,000 hardworking Georgians" who voted for him. "Thank you for your trust and support for a simple person like me who immigrated to this great country nearly 20 years ago and started his career as a car pusher. Your love and support will motivate me to continue my career in electoral politics."
"He said he was proud to be the first among the Indian community to fight in the primaries for labor commissioner in Georgia. And while it wasn't broken, it "at least cracked the ceiling". He hoped that "many more candidates from the Indian community would join me in future state-level elections."