Top Summer Fashion Trends for 2023-Welcome to the sunny season! Get ready to elevate your summer style with these 15 wearable fashion trends and essentials. In this article, we'll explore the latest summer fashion trends that will make you look stylish and radiant all summer long. From stunning dresses to trendy accessories, we've got you covered. So, let's dive in and discover the must-have fashion pieces for the summer of 2023!
Blue and White Floral Dress: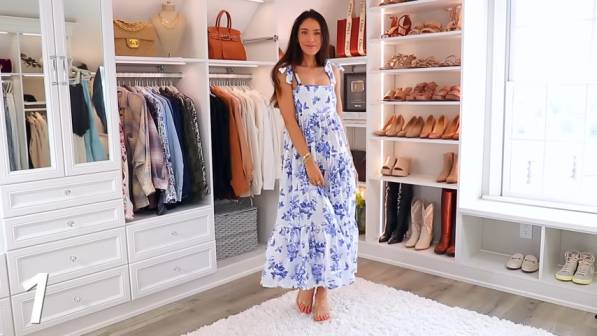 Let's start with a stunning summer dress featuring a timeless blue and white floral pattern. This classic print has made a big comeback and is perfect for creating a stylish and feminine look. The flowy design and customizable straps make it versatile for various occasions. Pair it with heels for a dressed-up look or flats for a casual vibe.
Maxi Skirts: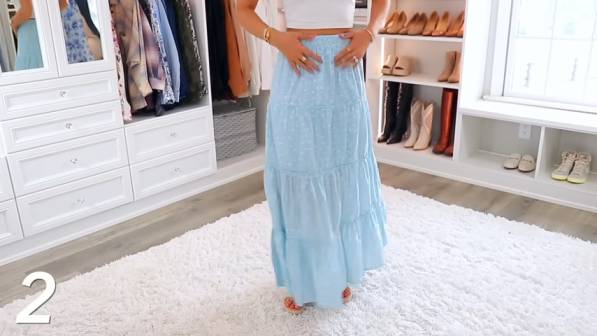 Maxi skirts are a current trend that combines comfort and style. Opt for a dainty daisy pattern and a light blue hue to embrace the feminine and trendy vibe. Pair it with a tighter crop top or tank top for a balanced and chic ensemble. Dress it up with heels or keep it casual with flats.
Skims Long Tight Dress: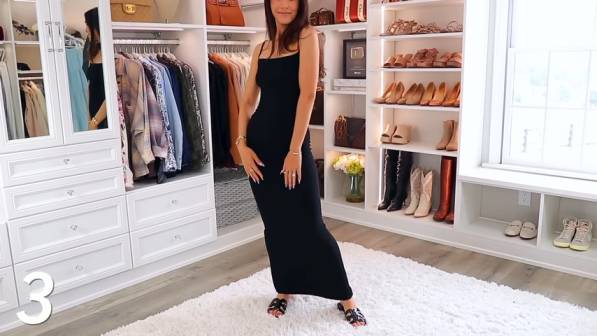 Skims Long Tight Dress has become a trend in itself. Known for its stretchy and soft material, this dress is loved by many. It comes in various colors, but the black version is the most wearable and versatile. This figure-hugging dress flatters all body types and is suitable for both casual and dressier occasions.
Crocheted Jumpsuit: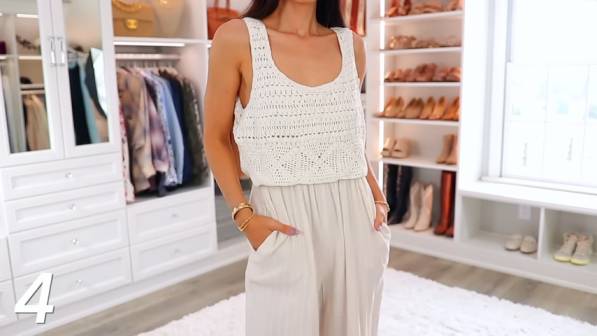 Crocheted clothing is a huge trend for 2023, and this jumpsuit is a perfect example. It's an instant outfit that looks coordinated and effortlessly stylish. The linen-like, flowy pants add to the trendy appeal. The jumpsuit, by the brand Lucky, offers high-quality and comfort in one piece.
Crocheted Cardigan: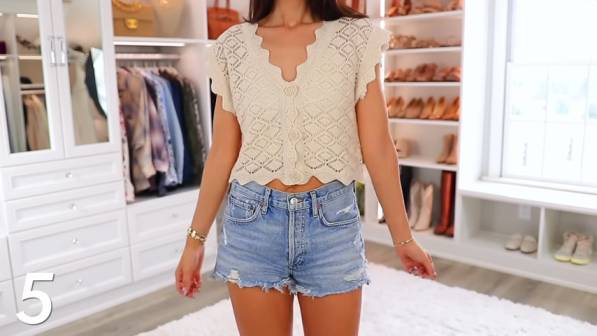 Add a touch of elegance to your summer outfit with a crocheted cardigan. This pretty and detailed piece can be paired with a cami or tank top. It's perfect for creating a casual look when combined with denim shorts. Additionally, it can be worn with dress pants for a more formal setting.
AGOLDE Shorts: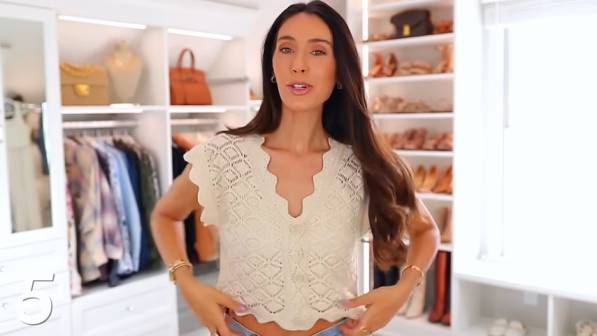 AGOLDE shorts are a summer essential that's worth the investment. Known for their perfect fit and high quality, these shorts are loved by many fashion enthusiasts. They are versatile and can be worn for several summers, making them a worthwhile purchase. Embrace the natural and casual look with these must-have shorts.
Crocheted Top:
For a summery and feminine look, consider a crocheted top. While it may not be suitable for all occasions, it adds a beautiful touch to your summer wardrobe. The tie at the center and the slight openness near the belly button create an appealing and unique design. Embrace the beauty of crocheted details for a trendy and bohemian vibe.
High-Waisted Cargo Pants:
Cargo pants are making a comeback, and this time, high-waisted versions are in trend. Opt for an army green color and a fitted, flared style to stay on point. These pants provide a flattering silhouette by fitting around the thighs and flaring out slightly. Pair them with heels for an elevated look or dress them down with flats.
Summer Overalls:
Summer overalls are another trend to embrace for the upcoming season. This time, it's all about shorts, offering a perfect summer twist. The featured overalls, by the brand Billabong, are made of soft and comfortable material. Adjust the straps for a customized fitand effortlessly style them with a tank top or tee underneath.
Layered Necklace:
Elevate your neckline with a layered necklace. This Nordstrom piece has received rave reviews for its perfect height and effortless style. Enhance your outfit by layering multiple necklaces at once. It adds a touch of elegance and completes your summer look.
Sparkling Body Chain:
For those seeking something unique and bold, consider a sparkling body chain. While it may not be everyone's cup of tea, it can add a dazzling touch to your summer attire. Wear it with your swimsuit for a beachy vibe or pair it with a tank top or bralette to make a statement. Embrace the unexpected and let your style shine.
Designer Bronzers:
Summer is the perfect time to embrace a sun-kissed glow, and designer bronzers can help you achieve that radiant look. Try Christian Dior bronzer or Gucci bronzer for a blendable and high-quality finish. These bronzers provide a natural and luminous effect, adding a touch of summer to your makeup routine.
Skin Tint:
Lighten up your makeup routine for the summer with a skin tint. Too Faced Born This Way Healthy Glow moisturizing skin tint offers a thin and natural layer that evens out your skin tone. It provides medium coverage and a healthy glow, perfect for achieving a fresh and dewy look during the warm months. The added SPF 30 offers sun protection for your skin.
Oribe Wave and Shine Spray:
Achieve effortless beachy waves with the Oribe Wave and Shine Spray. This hair product is a must-have for your summer vacation. Spray it on damp hair, tousle, and scrunch to create beautiful waves with a touch of shine. It's perfect for adding texture and achieving a relaxed, beachy vibe effortlessly.
Western Boots:
Complete your summer wardrobe with a pair of Western boots. These boots are currently in trend and offer versatility with various outfits. The shorter height makes them wearable with different styles and the affordable price adds to their appeal. Choose from a wide range of colors to match your personal style and create fashionable looks.
Conclusion:
Summer 2023 brings an array of exciting and Top Summer Fashion Trends 2023. From floral dresses to crocheted pieces and trendy accessories, you can stay stylish and embrace the season with confidence. Nordstrom offers a wide selection of trendy and classic fashion items that will elevate your summer wardrobe.