Don't bring back the talcum powder, the crime rate is high and you can be kidnapped — I was warned time and again when I shared my travel plans to Colombia (pronounced CO-LOOM-BIA, by the way) with friends and family. The country is much more than drugs and Pablo Escobar and you see that its people are making serious attempts to remove this label from their country. Unfortunately, several decades after his death, Pablo Escobar's name still comes to mind when Colombia is mentioned. To tell the truth, Colombians are secretly proud of his celebrity, whatever they may say today. After all, they were considered their Robin Hood.
If not Cocaine and Escobar, what is there to talk about, one might wonder. The first thing that struck me – a Minnesotan who spends at least six months a year with significant amounts of snow – was how beautifully green Colombia was. Although there are fears of deforestation, especially in the Amazon, this nation still has more than 50% of its land covered in green. Remember all the Colombian kidnapping and ransom films Hollywood has produced for us? I must say, the luscious green places were more of a distraction than our handsome heroes rescuing the poor kidnapped victims.
Three Bags of Coffee
There is also the world-famous Colombian coffee. I bought three big bags of their premium brand Gesha coffee. It's been said the Lamborghini of coffees. They proudly serve arepas; Flatbread with eggs, chicken and seriously anything and everything you can think of. Colombia has a culture of growing flowers and celebrating. Attending carnivals and flower fairs is still a tradition in some indigenous cultures. As Colombia is the world's largest producer of emeralds, you wouldn't want to leave the country without a jewelery or two of emeralds, or three if you're like me. Finally, another feature that catches your attention is how colorful the country is, with the zocalos of Guatape (discussed later), brightly painted houses in the old city of Cartagena, and the graffiti-filled walls of Bogota. It's not all talcum powder, you see!
Medellin (pronounced MEH-DUH-YEEN) is a clean, mountainous city with pleasant temperatures. Our tour of the city began with a barefoot walk in Barefoot Park, followed by a visit to the Antioquia Museum, which houses a large collection of works by Botero, an artist known for his disproportionate (not fat) paintings and sculptures. , repeatedly corrected). The trip to the Santa Elena area that afternoon was enjoyable. Flower sellers in this area, Silleteros, take flower production seriously. The flower baskets they use at carnivals are pretty heavy and of course I had to try carrying one.
Escobar's Backyard
A trip to Guatape is something I highly recommend. This Andean resort close to Medellin has a lot to offer. The main attraction is Piedra del Penol, this huge volcanic rock over 200 meters high. The reward for climbing the rock is 700 steps in each direction, an amazing view of other geological formations in Lake Guatape. The Andean sun is brutal here, all you need is 30 minutes to burn. The city of Guatape, with its brightly painted houses, is another major tourist attraction. Many of these homes also have zocalos, these oil-colored sized tiles used to protect the walls from flooding, indulge your eyes.
We can't leave Medellin without bringing Pablo Escobar up. After all, it was he who founded the Medellin cartel. At its peak, this cartel was shipping tons of cocaine monthly to the US, making Escobar one of the richest people in the world. He fought the rival Cali cartel, as well as the Colombian and US governments, quickly making Colombia the murder capital of the world before he was killed in a shootout in 1993. Interestingly, he also took advantage of goodwill, distributing money with Colombia's poor. housing and other "humanitarian" projects. This guy has to be given credit for two things: putting Colombia on the map and using his Supply Chain Management skills on banned items.
Four Showers in Cartagena
Cartagena (pronounced CAR-TA-HENA) has a different character from the other two cities I've visited; hot, wild and a little dangerous. This Caribbean city was often a target for pirates, thanks to the gold believed to be buried by indigenous leaders. Actually, our tour of the city started with a visit to the fort-fortress of San Felipe, which was built by the Spanish crown to protect the city from pirate attacks. You can see some remnants of the walls that were built to protect the city even before the construction of this castle.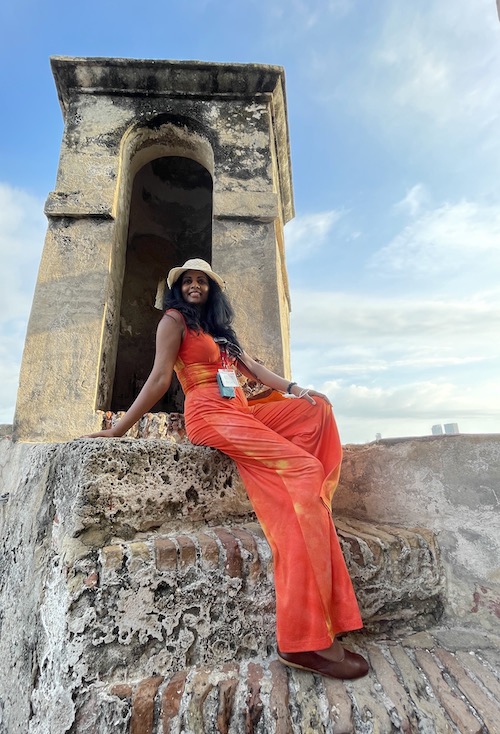 I was surprised to see that there are quite a lot of black people in Cartagena. Our guide then explained how Cartagena was an important port for the African slave trade in the 17th century. Some slaves escaped after long periods of oppression and formed free societies. These communities are known to have pure African people, but in larger cities you can find mestizos – Africans mixed with other races – (I gasped when I heard the term used liberally).
I spent an entire day sticky on my own terms, wandering around town, shopping and dining, and returning to my hotel every few hours for cold showers; I broke my own record by taking four showers in one day. From the Clock Tower to Getsemani, I loved the afternoon stroll, eating and shopping again in the walled and colorful old town of Cartagena. By the way, Cartagena is where we learned about emerald mining.
graffiti in the Andes
With temperatures ranging from the mid-50s to the mid-70s, Bogota provided the relief the Minnesotan in me needed, even though I was occasionally out of breath from the lack of oxygen at high altitudes. The capital city of Bogotá is another Andean, cosmopolitan city rich in history. Bogota is a busy city with 10 million people calling it home, but traffic is regulated by allowing single-plate vehicles on odd days and vice versa. I was also impressed by the mass transit systems that operate almost as efficiently as the American subways.
What immediately catches the eye is that the city walls are covered with colorful graffiti, much of which is filled with the message of activism. Considered a deadly city for activists, Bogota still cannot control graffiti. Here I learned the difference between murals and graffiti, both of which are works of art on the walls but the latter is illegal. However, in Bogota, graffiti is only regulated, not illegal, allowing younger generations to express their frustration.
Often referred to as Colombia's first wonder, Zipaquira Salt Cathedral is a Roman Catholic church that depicts the birth, life, and death of Jesus Christ. Built in the chambers of a salt mine 500 feet below the surface, these sculptures are considered architectural marvels. With thousands of pre-Hispanic gold artworks from frogs to masks, the Bogota gold museum is a must-see in the city. I highly recommend a funicular ride to the top of Monserrate mountain where you can enjoy the beautiful view of Bogota city. While there, you can also visit a 17th-century church with a mausoleum.
Final Destination, El Dorado
Finally, with an extra day left, I hired a private guide to take me to the Guatavita lagoon. I must say I saved the best for last. Not only is this lake a feast for the eyes, it is also tied to the legend of El Dorado, an Indian chief covered in gold dust, who is believed to have dived into this lake along with many other treasures. Since then, many conquerors have tried to drain the lake in hopes of finding the treasure. I can say that a tiring climb up to the rim is definitely worth it.
As my trip came to an end, I began to wonder if Colombia would be a good place to retire, as I had seen a few professionals. If I could live in such a colorful yet affordable city with delicious food and extremely friendly people, what more could I ask for? Anyway, that discussion is for another day. But did I mention the dripping pineapples as I cut them? I may not have told you, but there are many more wonderful things about Colombia that I couldn't tell in this article, so go find out for yourself!
---
Padma Nadella is an IT professional living in Eagan, Minnesota, with her husband and 15-year-old son. She runs a Facebook group for Minnesotans to collaborate on health and wellness related activities and events. The group currently has more than two thousand members. She knows all kinds of business, loves to play volleyball, travel the world and have fun, but she dares with everything else.