Create a Facebook Business Page
One of the simplest ways to market your business is to create a Facebook business page. It's a free way to build brand awareness and generate leads, and with 2.7 billion users, it's sure to bring in some sales. Creating a basic page is fairly straightforward, and only requires filling in the required information. In the next step, you'll choose the category for your page and enter your business's name, category, and address. If you'd prefer to hide your address, you can select the option to make it private.
Once you've completed the basics, you can begin adding details to your page. You can include an address and phone number, and choose whether or not your address will be visible to the public. Once you've added the contact information, you can proceed with setting up your page. You can also choose to include up to three categories. You'll need to use the first category to identify your business. Remember that you don't want to include generic words in your page name.
Once you have your page created, you'll need to promote it. Click on the "Insights" link at the top of your page to learn more about how your fans and customers interact with your page. When you haven't had any interactions on your page yet, it will be blank. After a few days, however, you'll have some useful insights to share with your customers. This is a great way to gauge how well your page is being received by your audience.
The final step is to choose a cover photo and profile picture. A cover photo should be representative of your business. The best way to find a suitable cover photo is through an online tool like Canva.com. This tool provides dozens of predesigned templates for free. You can use any of these tools to help you create a professional-looking page. You can also upload a business logo if you want to advertise your products and services.
There are many different types of Facebook business pages. Some are more professional-looking than others. You should try to make yours as appealing and useful as possible. By doing this, you'll be able to reach more people and increase your chances of making sales. If you want to expand your business, a Facebook page will be a great choice. The right kind of page will reflect your brand and help you sell your products.
Your Facebook business page will be accessible to many people. It will allow you to market your product or service to potential customers. It will also be a great place to share your latest news. When you have the perfect Facebook page, you'll get lots of exposure for your brand and will be able to build loyal followers. In addition to these, you can use it to promote your business. A well-made Facebook page will make your customers want to buy your products or services.
How do you create a Facebook Page for your business
Before you sign up to create Your Facebook Business Page first, you must login to your own personal Facebook account. Be assured that the information you have entered of your private account won't be visible to the public for your company Page.
This is because each business Page is overseen by at least one administrator. The administrators are those who have their own Facebook account. Your personal account acts as the key that allows you to log access to your business Page. If you have employees who are helping you manage your Page Their personal accounts will also allow them to access their specific abilities and roles.
If you're not yet logged in to your account on a personal basis, sign into your account now, and then jump into the Page making steps.
Step 1: Sign up
Go to facebook.com/pages/create.
Fill in your company's details in the left-hand panel. When you enter your information the preview of your page will change in real-time to the right.
To name your page choose your business title or the one that that people will likely to look in order to locate your company.
To select a category, type in one or two words that describe your company and Facebook will suggest a few options. You can pick from three options.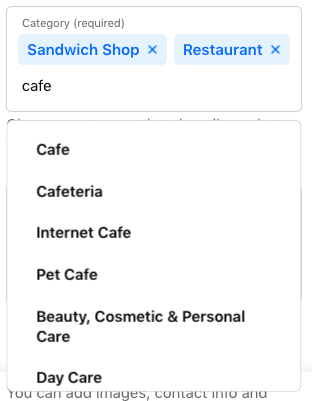 Source: Facebook
Then, you fill in next, you need to fill in the Then, you fill in thefield. This is a brief description of the results of a search. It should only be two sentences (maximum of 255 characters).
If you're satisfied with your description After you're happy with your description, click to create a page..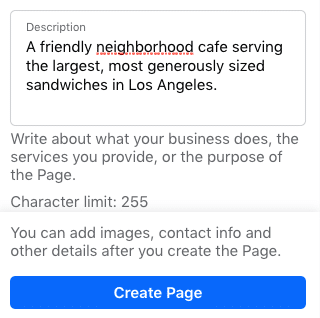 Source: Facebook
Step 2. Add photos
The next step is to upload a profile picture and cover photo for your Facebook page. It's crucial to create an appealing first impression therefore, make sure you choose carefully. Be sure that the images you select are in line with your brand's image and easily identify your company.
Upload your profile picture first. The photo will appear alongside your business listing in the search results, and when you interact with other users. It's also in the upper left corner of your Facebook Page.
If you're a well-known brand, then using your logo is the best option. If you're a famous or public person, then a photo of you is sure to impress. If you're a local company Try a professionally-shot photo of your special offer. It's important to assist a prospective client or follower to identify your page right away.
As we've explained in our article on the most appropriate sizes of images for all social media platforms Your profile picture should be 170 inches by 170 pixels. The image will be cropped into an oval Don't place any crucial information within the corners.
Once you've picked a wonderful image then click Add Profile Photo.
It's time to select the Facebook cover image, which will be the most prominent image that you have on your page.
This image must capture all the essentials of your company and reflect your business's personal brand's image. Facebook suggests you select an image that's 1640x 856 pixels.
After you've chosen the appropriate image After that, select to add a Cover photo.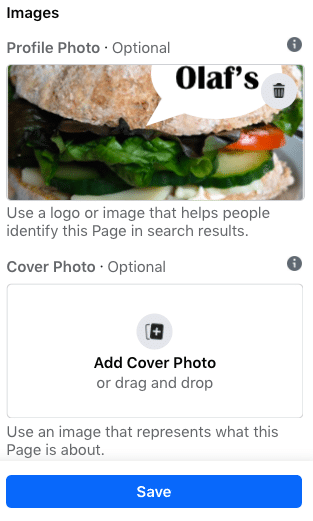 Source: Facebook
Once you've uploaded your photos After uploading the photos, you can click on the buttons at the upper right corner in the view to switch between mobile and desktop views. Make sure that you are satisfied with how your photos appear in both of the displays. Drag the images on from the left column in order to alter their position.

Source: Facebook
If you are satisfied with your choices After you're happy with your selections, select to save.
Ta-da! You've got A Facebook Business Page but it's very sparse.
Of course, even though the framework of your Facebook page for your company is in place however, there's lots of work to finish before you can share the page with your followers.
3. Connect your company with WhatsApp (optional)
When you click Save After you save, you'll get an on-screen box asking you whether you'd like to connect your company to WhatsApp. This is not mandatory, however, it allows you to include an WhatsApp button on your Facebook page or even direct users to WhatsApp via Facebook advertisements.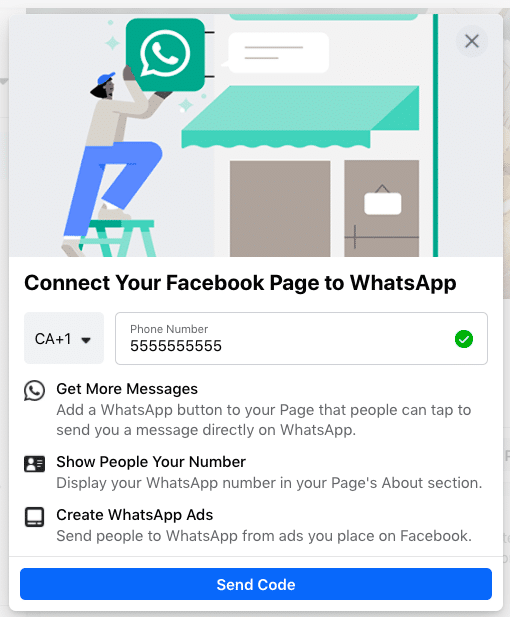 Source: Facebook
If you'd like to connect your business with WhatsApp then click "Send Code". If not, close the browser to continue, but do not connect WhatsApp. Then, you'll see a pop-up window asking you if you're certain. Because we're not going to do this moment we'll just select "Leave".
Step 4 Set up your account
Your username, also known as the vanity URL is the way you inform people how to locate the person you are on Facebook.
Your username may be up to 50 characters in length But don't overuse characters simply because you can. You want your username to be simple to type and simple to remember. Your company name or an obvious variant to it can be a secure option.
Create your own username by simply click to create a user name in the page view.
Enter the name you wish to use. Facebook will inform you when it's open. If you see an green checkmark, you're all set. Click to create your user name.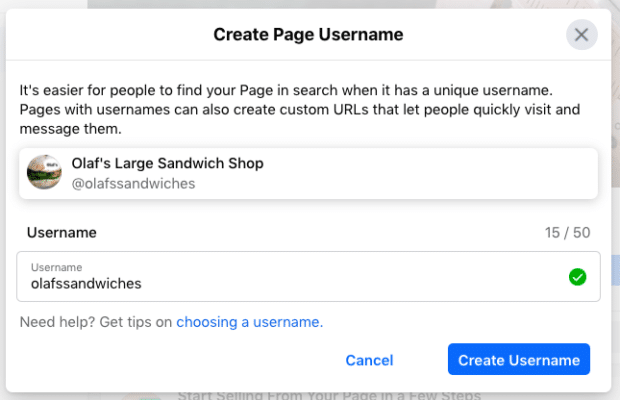 Source: Facebook
You'll receive a confirmation message. Simply click "Done".
Step 5: Add your business details
Although you may be tempted to save the information for future use, you must complete all fields on your Facebook page's About section from the beginning.
Since Facebook is usually the first site a potential customer visits for information about your company having everything on your page is crucial. For example, if a person is searching for a company that is open until 9 pm, they'll want to verify this info by putting it on your Page. If they don't see it, they'll keep searching until they find a location that is more open.
The good news is that Facebook is able to make this process easy to accomplish. Simply scroll down in your Page view until you reach the section titled Create Your Page to be Successful and expand the option that is called Provide Information as well as Preferences.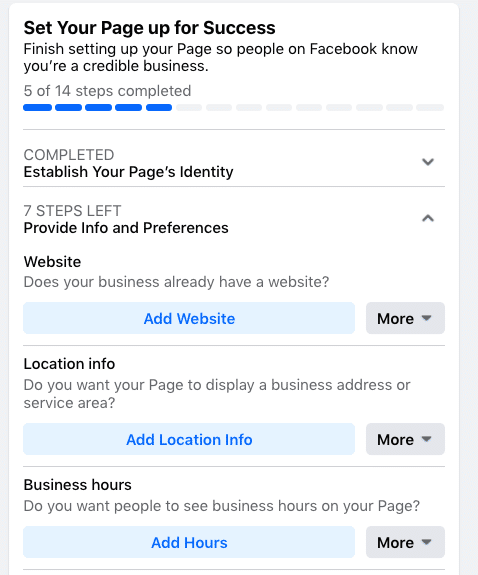 Source: Facebook
Enter the relevant information here, beginning with your site.
If your establishment has public access during certain hours, be sure to include those hours on this page. This information is displayed in the search results.
Don't forget to finish your Add an Action Button section.
The built-in call to action button of Facebook makes it easy to offer the customer what they're looking for , and it lets them engage with your company in real-time.
The appropriate CTA button should encourage your customers to discover more about your company buy, shop, download the application, or make an appointment.
To include your CTA Click the blue box that reads "Add button" and then select the type of button you would like to use.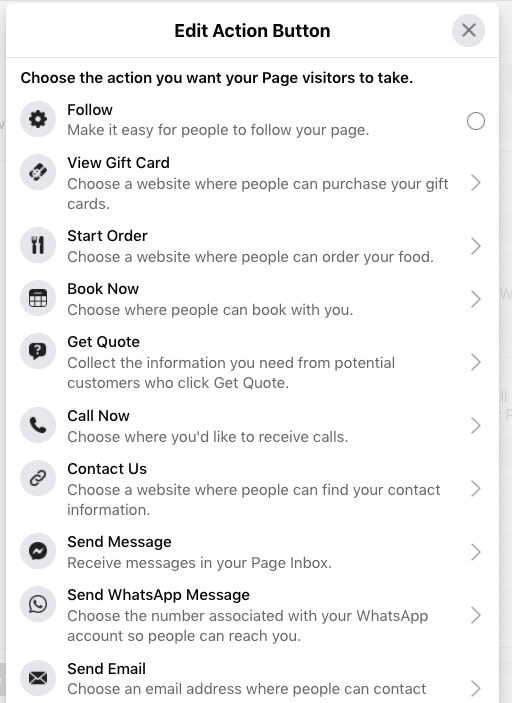 Source: Facebook
If you're not able to go through all these steps at once it is possible to access them in the future. Within the Manage Page menu, which is on the left side, simply scroll down until you reach edit page Information.
Plus: Download a free guide to help you learn how to convert Facebook users into customers in just four steps with Hootsuite.
If you'd like to take the Facebook Business Page offline while you make changes to the information you have the option to de-publish your page. In your page's Manage menu, select Settings Then General. Select the Page's visibility Change the Status to Unpublished Page..

Source: Facebook
Take the exact steps for republishing your webpage once you're done.
Step 6. Create your first blog post
Before you begin inviting users to follow your Facebook page for your company You should share some important content. You can make your own posts or post relevant content from thought-leaders within your field.
You can also create an individual type of post such as an event or offer. Just select one of the options within the Create box at the top of your page.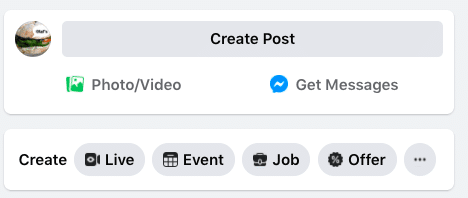 Source: Facebook
Be sure that what you publish is beneficial to the people who visit your page upon their arrival at Your Facebook Business Page to ensure that they are more likely to remain.
Step 7. Invite an audience
The Facebook Business Page now represents an online presence that makes prospective customers and followers feel comfortable in interacting with your.
Now is the time to gain some followers!
Begin by inviting existing Facebook friends to join your Page. To do this, simply scroll to the final section of the Create Your Page in the Success box, and then expand the section titled Introduce Your Page..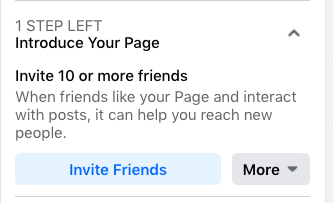 Source: Facebook
Hit on the blue Invite Friends button to open the list of your facebook friends. Choose which friends you would like to invite, and press to send invites.
Utilize the other platforms, including the website or Twitter to help promote your new website. Include "follow us" logos to your promotional materials as well as your the signature of your email. If you're feeling comfortable doing this you could request your customers to rate your business on Facebook also.
How can you improve Your Facebook Business Page
Once you've learned how to set up an effective Facebook Page for your business now is the time to look at ways to improve your Page. These strategies can help you increase engagement , so that you can achieve the social media (and other social networks) marketing objectives.
Here's a brief summary of steps that you could use to improve the performance of Your Facebook Business Page. We'll go over these elements in greater detail later on.
Pin a post to a Pinterest board
Do you have important information that you would like all users of your Page to be able to view? An offer you don't want them miss? A highly-performing piece of content that you'd like to showcase? Pin it to a blog post.
A pin post is located on highest point of your Facebook Business Page right under the cover image. It's an excellent place to showcase an thing that will draw the attention of your customers and encourage them to stay.
Begin by creating your first post or scrolling down your feed to locate an existing post that you would like put on the front of your page. Click on the three dots at the right side of the article, then click "Pin to Top of Page.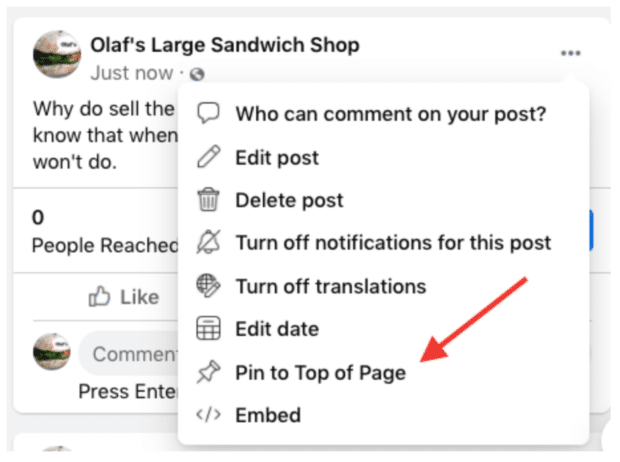 Source: Facebook
After you've pin the post, it'll appear underneath the title "PINNED POST" in the upper right-hand corner of the page. This is just for internal use. To users it will appear at the very top in Posts and have an icon in blue to indicate that it's been pinged.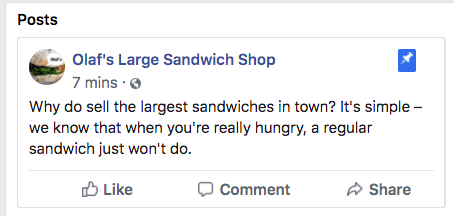 Source: Facebook
Get the best use of tabs and templates
Tabs are the various tabs on your Facebook page, such as tabs for the about section as well as photos. You can select the tabs you wish to add and the order they appear on the top left menu. Manage your page menu.
If you're unsure of what tabs you should include take a look at Facebook's many templates.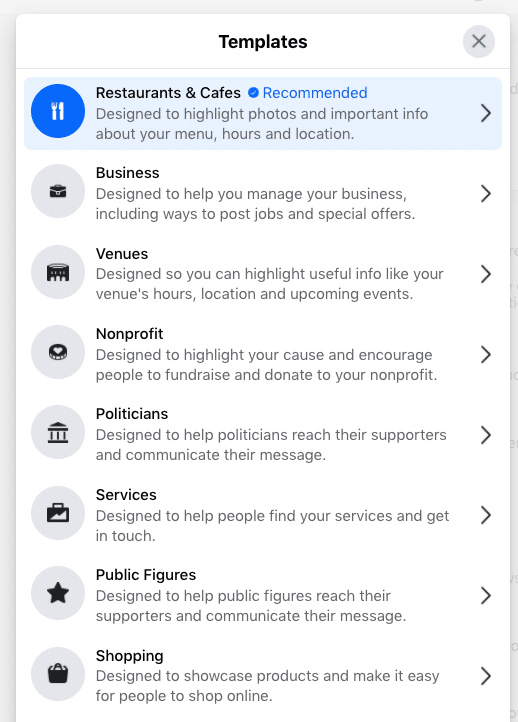 Source: Facebook
Each template includes a collection of tabs and buttons specifically designed for specific different types of business. For instance The Restaurants & Cafes template includes tabs for menus as well as reviews, offers and menus.
To access tabs and templates To access tabs and templates, select Settings under the Manage Page menu Then click Templates and Tabs..
Similar to other Pages
Because Facebook is, in essence a social platform It's a great idea to utilize your Page to create an online community for your company.
One way to create community is to join other Pages that relate to your company (but not your competitors).
If, for instance, you own a business in a crowded shopping area (or mall), you might join with other shops in the same vicinity. Consider the internet as a virtual version of your business group and chamber of commerce.
If you operate an online company you may be able to collaborate with other companies in your industry . This could bring additional value to your customers, without having to compete directly with your offerings.
To follow other companies go to their Facebook page and click the additional icons (three dots) beneath the cover image. Click to Like the Page. If there is multiple Facebook Business Page select the one you'd like to follow the other business after which press "Submit".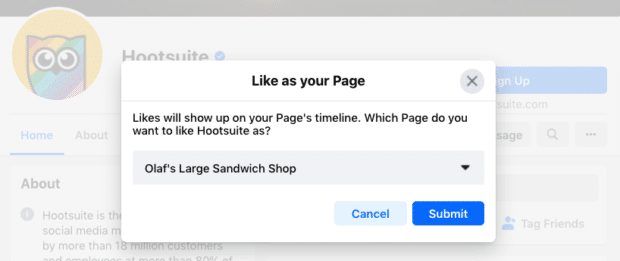 Source: Facebook
Pages will be notified when you are a fan and could visit your Page or give you a like back in exchange.
Your business's page has an RSS feed that is separate to your private profile, which means you can interact with the businesses you follow via your profile for business. To view all the posts from Pages you've liked on your Page you just need to choose your Page and then click "News Feed" on the menu left. If you're not sure if you've liked any Page to date, Facebook will provide a an array of ideas to help you get started.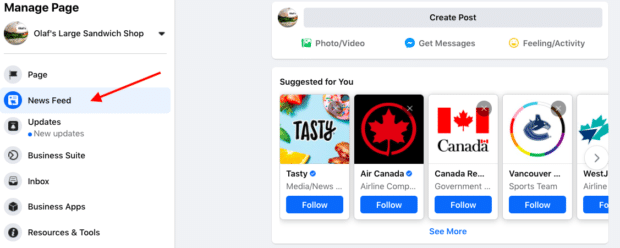 Source: Facebook
You can join Groups to create your own Page.
Facebook Groups provide an organic way to connect with millions of people who are interested in a certain area, but without the expense of paying for advertising. By joining and posting to an appropriate Group as a Facebook Page will help those who are interested in your post to click through to your business page instead of you personal account. Here's a brief tutorial on the steps to sign up as a Page (it isn't easy!)
Check your settings
The Facebook Page settings let you go into a lot of details about who is able to manage the Page and which posts you can post as well as words that are not allowed on the Page as well as other such details. You can also view the individuals and Pages that are fans of your profile, set the settings for notification settings, as well as many more.
Consider your Settingtab as your in-house console with every parameter you can adjust to you. Spend a few minutes to review every setting, and ensure that it's set up for the way you'd like to manage your Page and the way you'd like your followers be interacting with your.
To change your settings, simply go to the Settings at the at the bottom on the Manage Pagemenu.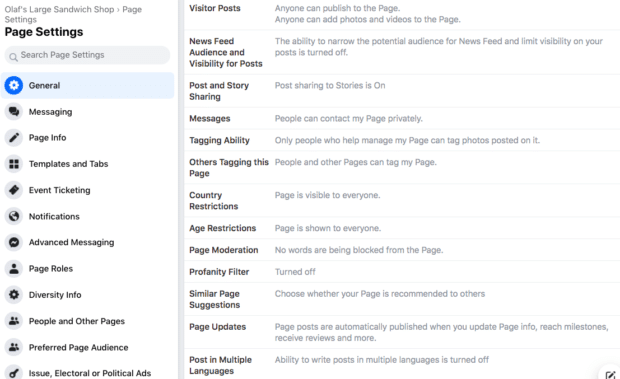 Source: Facebook
Make sure to check your settings frequently Your preferences and needs could change as your company's and your social media following grows.
To have greater control over who is able to oversee your Page and to limit the roles performed by contractors, team members and other agencies, think about creating a your Facebook Business Manager.
Discover Page Insights from HTML0
The more data you have about your target audience and your audience, your more material you are able to make to meet their desires.
Facebook Page Insights allows you to collect information about how your followers interact on the Page as well as the posts you post. To gain access to Insights for your Page, click the Manage tab. To access Insights you need to click Insights within the Manage Page menu.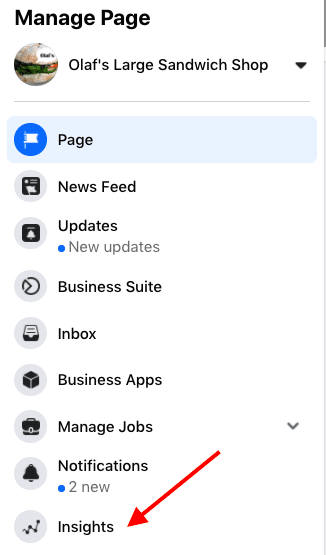 Source: Facebook
Insights will provide you with data about your Page's performance overall Insights also provides information on engagement and demographics of the audience. You can view metrics for your pages to know how many people are you reaching.
It will also show the number of comments and reactions that are gathered from particular posts, data that can help you plan your the future content.
The most significant feature of Insights is the capability to determine how many people have clicked on your call-to action button web page, phone number, or address. This information is split into the demographics of gender, age city, country, and even device. It makes it simpler to create content to the audience you want to reach. To get this information, select the Actions on the Page within the Manage Page menu.
Links to Facebook pages from other websites pages
Backlinks can boost the credibility for Your Facebook Business Page and may assist in improving the ranking of your website in search engines. They can also assist in directing new users on your site.
Include an affixing link to your Facebook page at the end of your blog entries and, if appropriate, to your web page. Encourage other bloggers and companies to follow suit when you work together.